Elite-Options.com Review

Established: 2015
Platform: Leverate BX8
Min. Deposit: $250
---
Quick Summary
| Doesn't Accepts US | Regulation | Payout | |
| --- | --- | --- | --- |
| | None | Up to 80% | |
Full Review
Elite Options has become the latest player to come into the binary options market with the Leverate BX8 platform. It seems that the platform and its tools are quickly catching on with the binary options investors. Elite Options is hiking a ride with the upward trend, joining other pioneers in the industry, and it turns out that Elite Options is an exciting broker bringing fresh energy into the market. To position itself in a very competitive market, Elite Options chose the platform BX8 developed by Leverate, but since it was not the first broker to do so, it has come up with unique bonus schemes, educational material and exceptional customer service to differentiate itself from competitors.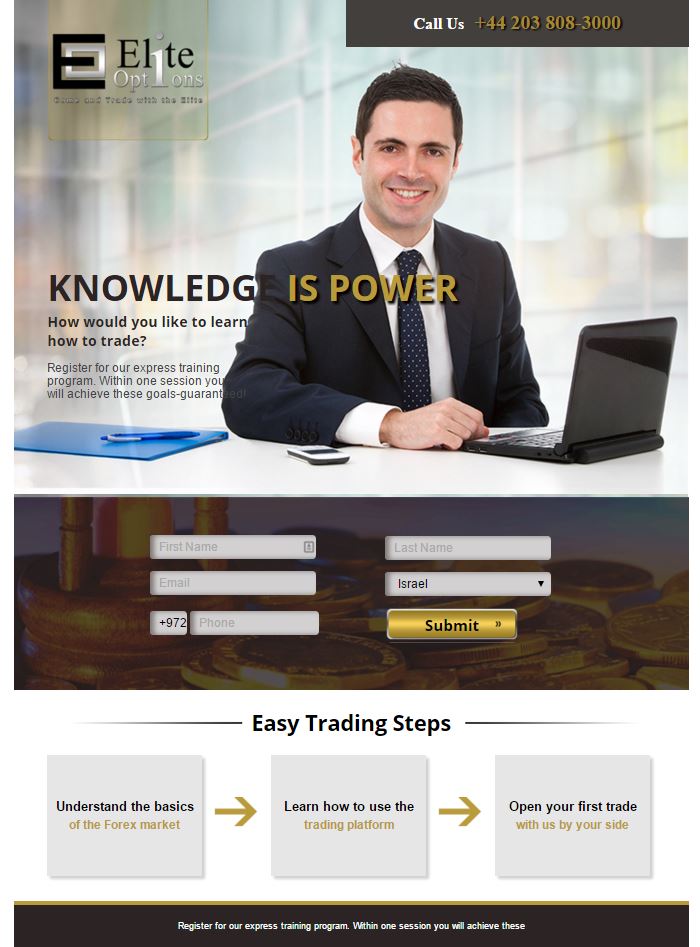 Payout : 80%
Minimum Deposit: $250
Regulation: No
US Friendly: No
Demo Account: No
Bonus: Up to 100%
Minimum Trade: $1
No. of Assets: 70
Asset Classes: Stocks, Currencies, Commodities, Indices
Trading Features: High/Low, One click trade, Long term, 60 second
Software Platform: Leverate BX8
Open your account now at Elite Options
Trading Platform
By choosing Leverate's platform, which are well-known and respected in the forex industry, Elite Options joins a very exclusive club of brokers bringing the latest technology and trading tools into the market. Leverate's BX8 is a clear cut, exceptionally well designed and user friendly platform. Leverate created a platform with the deep graphical detail needed for forex trading, which allows investors signing up with Elite Options to benefit from years of experience and unique tools developed for the forex industry, which is highly demanding.
To complement these tools, Elite Options kept the $1 minimum trade designed by Leverate. On top of that, they have taken advantage of the one click trade tool. The platform also allows trading only on the basis of a high and low target for any given asset, enhancing the decision making process even further. Elite Options is looking to save its traders precious time, which they can use to follow crucial information in the markets and keep their edge.
The Elite Options team has developed well balanced trading features, which will include in the future long term positions of up to 1 year. This will cater to the investors who focus on long term strategies. Apart from these positions, Elite Options offers trading features such as the high low and 60 seconds trade. This shows how Elite Options' team knows exactly what the trader needs, and it is not surprising. The company was established by seasoned traders, who have more than 100 years of combined experience investing.
Deposits and Withdrawals
Elite Options offers low minimum deposits and short withdrawal times. Their minimum deposit is $250 and their withdrawal time is 3 to 5 days, which is short by industry standards. Apart from the low minimum deposit and quick withdrawal times, Elite Options protects its investor's exposure to market forces by limiting the maximum amount on a trade to $1000. Another proof of their unique experience in investment in general and binary options in particular. Additionally, Elite Options offers bonuses ranging from 25 to 100% of your initial deposit. This is quite a generous bonus rate in the binary options industry. Elite Options accepts USD, EUR and GBP.
Customer Support and Education
Elite Options has an exceptionally well designed education center for beginners and also for experienced investors. Their multilingual team also offers live chat for customer support, delivering the service on a 24/7 basis. They also offer customer support on the phone. Their team is capable of providing customer support and service in English, Spanish and French.
Unique Features
Elite Options has a unique team with a lot of trading experience, making them an ideal broker. They have carefully selected 70 different currency pairs, stocks, commodities and indices to invest on, based on their unique experience, giving their customers a unique opportunity.
Conclusion
Although it is a relatively new player, Elite Options has proved to be an excellent choice for the binary options investor. Their educational center and unique trading experience offers a great opportunity for investors at all levels. Their clever choice of the Leverate BX8 platform and the unique tools in it, clearly show that Elite Options is on its way to position itself as one of the brokers to beat in the binary options industry.