The Any Option binary trading platform is used exclusively by their own binary option broker AnyOption. Like the other binary option platforms on the market they are web based, meaning a user does not need to download any software, and they receive their market data from Reuters.
Any Option offers binary options for over 50 underlying assets including index, forex, commodity and stock options. They claim an average payout of 65-71% of the investment for options expiring within the money and 15% return for options expiring out of the money for a potential 85% loss of investment.
At a later date we will be doing a detailed study of the actual speed of execution and performance of the site as  well as our experience with monetary settlement and payouts.
In this post we will be looking at the features and general layout of the any option platform.
The basic binary option screen appears as follows: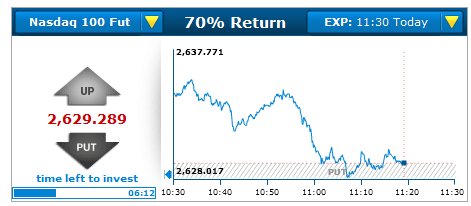 From this screen a trader executes a trade as follows:
Click yellow drop down arrow on left to select asset type.
Click yellow drop down arrow on right to select expiration time. Graph for selected asset with current price is displayed.
Click UP/CALL arrow to select Binary Call Option or Click DOWN/PUT arrow to select Binary Put Option. Screen displays the following: 
Enter investment amount.
Click BUY.
Any Option trading features include the following:
Option+: Any Option provides a unique feature called Option+, which allows a trader to sell the option to Any Option before the expiry time. When you acquire an option from the Option+ screen you can press the GET QUOTE button at any time before expiration. Trader can then choose to sell the option to any option at the quoted price or can wait for the expiration time.
One Touch: Common feature with most platforms where option is purchased between Friday and Sunday stock must reach strike price within certain period of time. Provides much larger payouts than regular binary trades.
Take Profit: Alerts trader if a current option trade is in the money before expiration. Trader can close position while trade is in the money for a premium.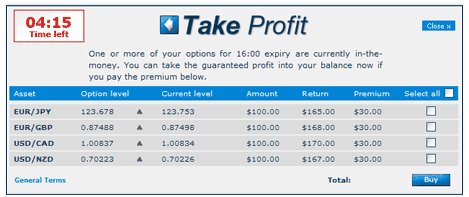 Example: The EUR/JPY option above is trading in the money with 4:15 left until expiration. Trader can choose to hold position until expiration and collect $165 if the option remains above the original trade price or he can choose to close position immediately and collect $135 ($165-$30 premium).
Roll Forward: Alerts trader if a position is out of the money before expiration. Trader can extend expiration time for a premium.

Example: The USD/CAD position is currently trading out of the money with 4:15 left until expiration. Trader can extend the expiry time by one hour in this case for a $30.00 premium.
Profit Line: Detailed graph offered to hourly option traders showing detailed information about your option position.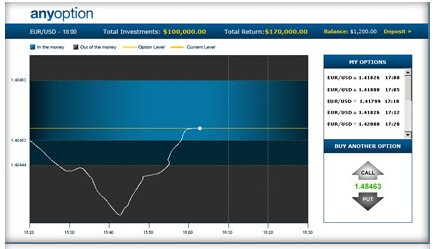 Any Option also offers a free SMS service for trades of 100 USD/EUR/GBP or more where trader has option to receive trade outcome by SMS.
Find the best place to trade. Click here for broker reviews and to see the brokers that passed our certification tests.