Most Binary Options trading strategies require technical analysis as a means for executing trades. Technical analysis is best carried out through the use of reading different chart patterns. The charting offered by most most Binary Options brokers is rather basic incorporating a simple line chart with limited flexibility.
It is therefore, important for serious Binary Options traders to find online charting software that more readily transmits the necessary signals for technical analysis traders. There are many high level paid charting sites which may be beneficial for highly advanced traders. At a future time we plan to review these different pay sites
Fortunately for the beginner to intermediate trader there are many free online charting sites which can be highly advantageous for implementing trading strategies. Most Binary Options trades are short term intraday trades which require a live real time data feed. It is important to use a charting program that provides real time charts. Depending on the types of assets you trade you may need to use different charting software as not all services provide charts for all asset classes.
The following is a list of several free online charting platforms that offer real time feeds and the asset classes they service:
Very comprehensive web based charting program for stocks in most markets.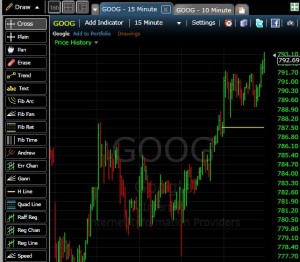 Web Based free real time charting program for worldwide markets and Forex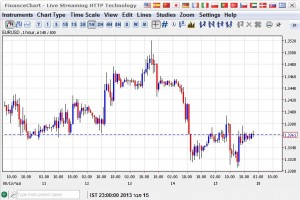 Free Downloadable software platform for Forex charts which has the advantage of being able display 4 currency charts at the same time. Great feature for short term 60 Second Binary Options where traders need to act quickly in multiple trading positions.