EZTrader launched it's trading platform in 2008 claiming to be the first online binary option platform in the marketplace. The EZTrader platform is web based and uses Reuters for market data. EZTrader does not offer a white label program. They support their own binary option brokers under the names EZTrader and GlobalOption.
EZTrader only offers standard binary option call/put trades. Stock price must be higher or lower than the original price at expiration. They offer hourly, daily and weekly options. Trade-able assets include a variety of Indices, Currencies, Asian Stocks, EU Stocks, US Stocks and Commodities.
Trading screen appears as follows: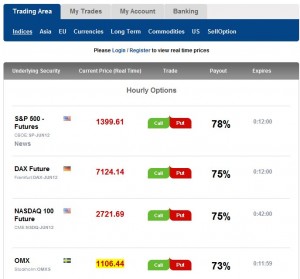 Once trade is selected the following screen appears:


Find the best place to trade. Click here for broker reviews and to see the brokers that passed our certification tests.