NADEX does not accept traders from outside of the US, for a list of brokers that accept Non-US traders click here 
Nadex.com Review

Established: 2010
Platform: Proprietary
Min. Deposit: $100
---
Full Review
By now it is clear that the binary options industry has dramatically different characteristics on both sides of the Atlantic. When it comes to the depth, detail and overall user experience, the only CFTC regulated broker, Nadex, has created a whole different dimension. The twist is that all this depth and detail are indicative of the involvement of the parent company, IG Group, based out of the Eastern side of the Atlantic, in the UK. It is clear that IG's tradition in the financial markets and its involvement with other financial products, namely derivatives, has trickled down into Nadex's identity. Nadex offers rich and highly informative news reels and other investment support to its clients, unparalleled in the binary options industry. That is only the tip of the iceberg insofar as the Atlantic divide in the binary option industry is concerned.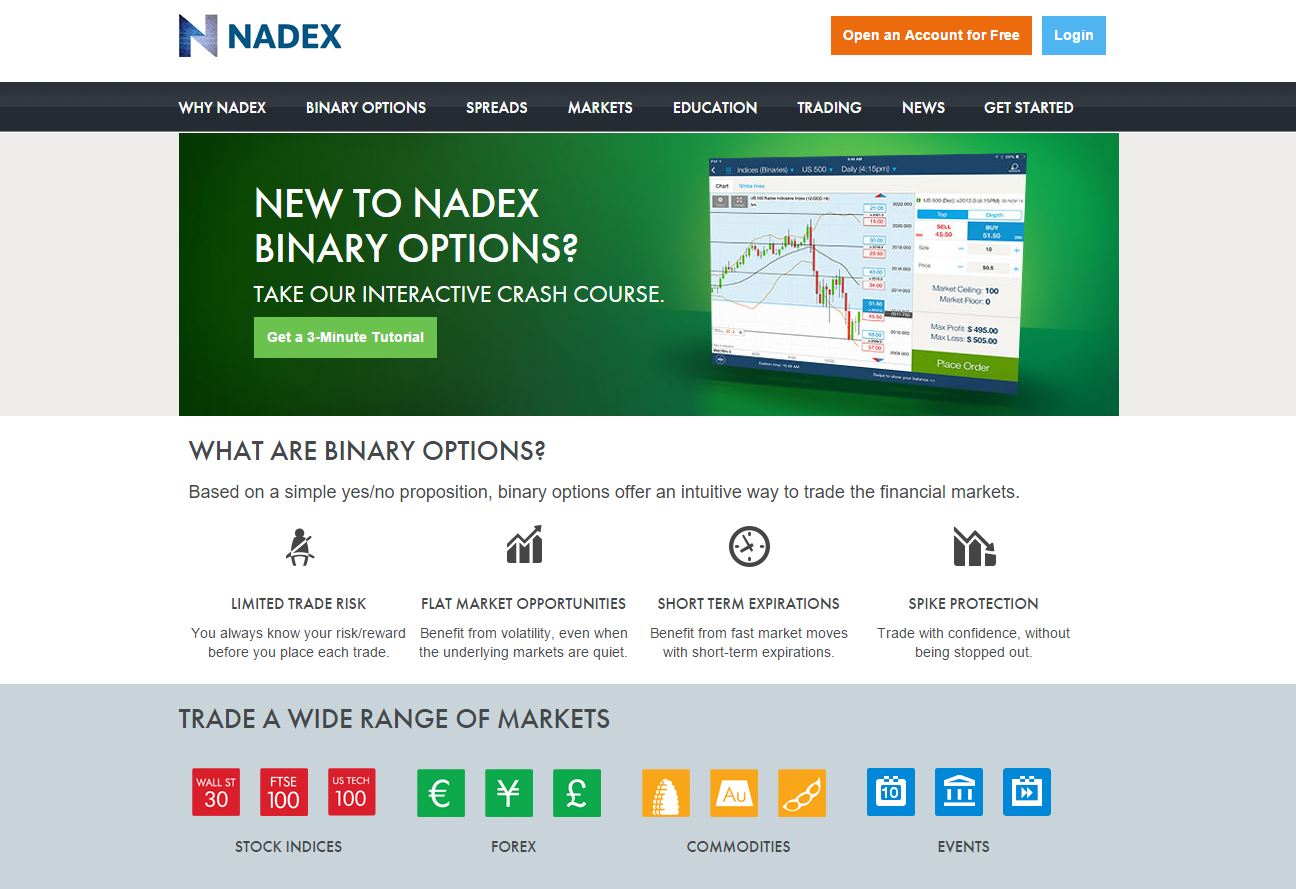 Open your account now at Nadex
First and foremost, it is important to highlight the fact that unlike many other brokers in the binary options industry, Nadex does not profit from any gains on any given trade. Nadex charges a fee for every transaction, guaranteeing that your order actually serves to buy and/or sell a contract for the asset chosen. Nadex does not intervene in the order besides offering its services as a registered exchange and clearing house, to facilitate it. This guarantees Nadex will always be an unbiased service provider. Their website provides a clear fee chart which you will have to factor into your investment calculations.
Nadex also offers the security features necessary to keep your funds safe. It is important to highlight the fact that once you set up an account, your funds will not be held by Nadex but will rather be deposited in segregated bank accounts at BMO Harris or Fifth Third. Both banks have a long tradition working with investment accounts of various types. This feature is part of the requirements to comply with CFTC regulation, which make sure the investor's funds cannot be withheld once the investor decides to withdraw them.
This trading set up means that your orders will not necessarily come through immediately. There actually have to be buyers and sellers for them to go through. This also means that the conditions of the contract are set by the investor. You can actually chose at which price you will want to buy or sell a contract, and the platform will calculate your maximum possible return for each transaction. When your order closes out, and if it closes according to your predictions, your return will depend on how high above or how low below the given price you set the order closes for. Your return will also be affected by the number of contracts you bought. Nadex offers a detailed explanation about how trading on their platform works, which is part of their great commitment to transparency and honesty.
Nadex is also committed to an extremely high standard of customer service. They provide a 1-800 number to make sure that investor will always have the support necessary if there are any issues with the platform, security concerns and login trouble. Nadex also provides top tier educational material for investors, including a demo account as well as their own in-house news reel, backed up by sources such as Bloomberg and Reuters. Additionally, Nadex offers its customers unique features that make it stand out in the industry, such as:
Daily and weekly Bitcoin binary options contracts
Full CFTC regulatory oversight
All member funds are held in top tier US banks
Cap checks to ensure they hold the funds to cover the maximum possible profit in advance of every trade
Matching buyers and sellers to open a position in the market
Free account with minimum initial deposit of $100 needed to start trading
Making sure there is enough collateral in your account to complete the open ticket
1099B tax forms sent to its members at the beginning of the year
Conclusion
There is no doubt that Nadex has taken the US binary options markets by storm. To date, it is the only CFTC regulated broker, with which US customers are legally allowed to participate in the binary options market. The differences in regulation between Europe and the US mean that Nadex offers its clients a very different trading experience than what the European traders are used to. The degree of sophistication that Nadex offers its clients, goes hand in hand with the standards set by its parent company, FTSE listed IG Group. Investors will be able to learn quickly how to use the platform through the demo account, which will make them appreciate the level of sophistication. The regulatory oversight, the quality of the services provided, the degree of security offered and the backing of an investment powerhouse make Nadex a standalone player in the binary options industry. Do not hesitate to open your account for free.