The Tradologic platform supports about 18 binary option brokers, including  OptionBit. Their platform is based upon 3 main types of trading strategies, which they call Digital, Touch, and Range. Trader can choose options from a selection of Currencies, Indices, Stocks and Commodities.
Digital: Standard Binary Option trade. Trader clicks on ABOVE/CALL arrow if he believes asset will be above current market price at expiration. Clicks on BELOW/PUT arrow if he believes asset will be below current market price at expiration.

The digital screen has a dropdown menu for assets or click on a tab to select asset type list.
Touch:  Asset needs to touch a certain price within a certain time frame. Allows for larger payouts.

Range: Trader predicts whether an asset will expire in or out of a predetermined trading range.

Turbo Trading: TradoLogic offers multiple short term options. Choose from options that expire in 60 Seconds, 2 Minutes and 5 Minutes.
Tradologic offers a Take Profit and Rollover feature.
Take Profit: Trader can close a position before expiration if it in the money to secure some of the profit.
Rollover: For a fee trader can extend the expiration time of an existing position.
Trade can choose from 2 screen views.
1) Multiple position view- Shows 4 different trade scenerios.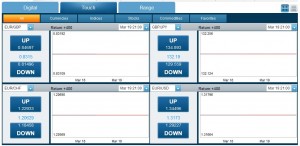 2) Single trade view- Shows 1 trade window.

The standard Tradologic broker home page provides a live ticker as well as trading information. Trader must click on a separate button to enter the trading platform.  As with most of the platforms Tradologic receives financial data from Reuters.
The following is a list of our recommended Brokers operating on the TradoLogic Platform:
Find the best place to trade. Click here for broker reviews and to see the brokers that passed our certification tests.