ZoomTrader.com Review
 
Established: 2012
Platform: Tradologic
Min. Deposit: €250
---
Quick Summary
| Doesn't Accepts US | Regulated | Payout |
| --- | --- | --- |
| | | Up to 81% |
Full Review
Zoomtrader, one of the oldest and best binary options trading platforms has a fresh new look. Why not start a new year with a new look? Besides, you can't keep the same old look forever and Zoomtrader's new coat of paint even comes with some fresh new features that traders have been yearning for.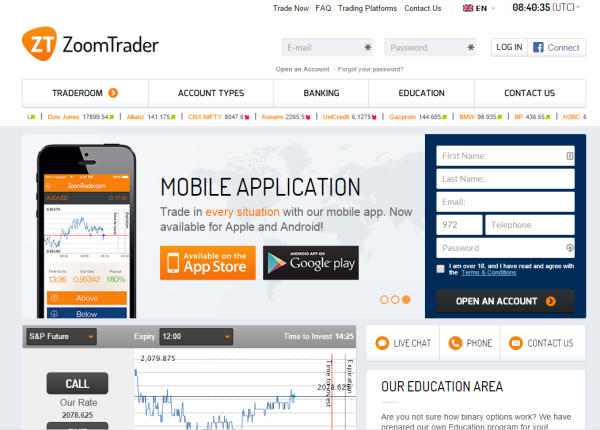 Payout : Up to 81%
Minimum Deposit:  €250
Regulation: Yes
US Friendly: No
Demo Account: Yes, with deposit
Bonus: Up to 150%
Minimum Trade: $10
No. Assets: 65
Asset Classes: Stocks, Currencies, Commodities, Indices
Trading Features: Digital, Turbo, Touch Up/Down, One Touch, Range
Software Platform: Tradologic
Features
We'll skip the small talk and get right into describing the most impressive new features. Perhaps the biggest change is that now traders can choose their own profit percentage. With that also comes a choice of "insurance" in case a trade doesn't go as planned. Maybe you're sure that your trade will finish in the money. All you have to do then is select "Call" or "Put" and select how much you want to invest. That is all there is to it; everything works just like it always has. But, if you aren't completely sure and want a little insurance all you need to do is open the "Return" dropdown menu and select what percentage of your initial investment you want returned to you in case you picked wrong. It really is that easy and it gives new traders some piece of mind. This versatile new feature can help experienced traders as well. If you're trying out a new strategy or want to test some new analytical technique you've learned, Zoomtrader's new variable profit trades will allow you to have a little more security while you perfect your process.
The other exciting new feature Zoomtrader has added for VIP users are live charts for technical analysis. Now there is no need to run all over the internet looking for reliable, up-to-date charts for your analysis. All you need to do is go to Zoomtrader's information center and you'll find real-time charts from Net Dania right there. You can pop these charts off the page so you can do your anaysis side by side with your active Zoomtrader trading window. Having all your tools in the same place makes trading much more convient and effecient.  Be sure your Java is up to date though, as these charts rely on Java.
Zoomtrader has listened to the Turbo trader too and added more options. Now you can trade turbo with a wider variety of expiry times. Do you like 30 second trading? Zoomtrader has you covered. In some cases you can even find 15 second and 45 second Turbo trades. Investors who like volatility and want to test their technical analysis abilities will love these new expiry times. Keep in mind that turbo trades are dependent upon trading volume conditions so you might not see those 15-second trades every time for every asset.
All the old-favorite functions are still available at Zoomtrader. They have just been just updated. You can still make Range and Touch trades with the same ease and precision as before. And now depositing is easier than ever with simplified withdrawals too. If you are still having trouble with either one all you need to do is click the "Banking" button at the bottom of the page. There you'll find links  to detailed instructions for deposits and withdrawals.
Customer Service
Of course Zoomtrader's crack customer service experts are always around to help you out. Assistance is never farther away than a phone call, email or trip to their expert LiveChat support team. The folks at Zoomtrader are sure you will like the new design and encourage you to head over and take a look for yourself. As always they are committed to making sure you have the best binary options trading experience possible so if you have questions about their new design or can't find a feature you loved don't hesitate to contact Zoomtrader's support team.