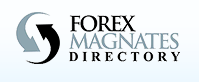 We're proud to announce that
TradeOpus.com
has been included in the Forex Magnates Directory of online forex websites and services.
Forex Magnates is the world's premier online directory of forex services and resources. Used by thousands of people around the world as a who's who in the world of forex. This is the most comprehensive directory you can get, put together by one of the largest and most popular forex websites in the world.
We're proud of the fact that TradeOpus has been added as a premium listing into the directory and promise to bring you more ggreat forex and trading news, strategies and reviews during 2014.